10 Amazing Halloween Inspired K-pop Music Videos
It's time to break out your costumes, so you can trick or treat for sweets to eat! To get you in the mood for the spookiest night of the year, here are a few K-pop music videos that were inspired by Halloween costumes and themes. From the creepiest and darkest videos to the most adorable ones, check out our list of 10 Amazing Halloween Inspired K-pop Music Videos.
10- Block B's "Very Good"
I love this music video! It was very much inspired by the crazy Joker story. The plot follows the guys as they go to rob a bank, all dressed in a Joker-esque masks, and end up having a huge party! I loved every second of it and thought the concept was something only Block B could pull off. After all, aren't they the only group that were serve up their own heads on a platter?
9 – Dreamcatcher's "Good Night"
Dreamcatcher doesn't just deliver great music, they also excel at spooky concepts. The girls started off 2017 with the creepy MV "Chase Me" and continued their concept a few months later with "Good Night." Both videos are worth a watch and serve up bizarrely beautiful visuals
8 – BOYFRIEND's "Witch"
In this music video, all the members of BOYFRIEND are vampires who are fighting a woman who betrays them all. The vampires go after her with a vengeance, but she proves to be too fast and has the victory in the end, disappearing in a totally twisted way. With creepy contacts and vampire teeth, this is a great music video for Halloween! (Click here to watch this MV, since the embed option is currently not working for their channel.)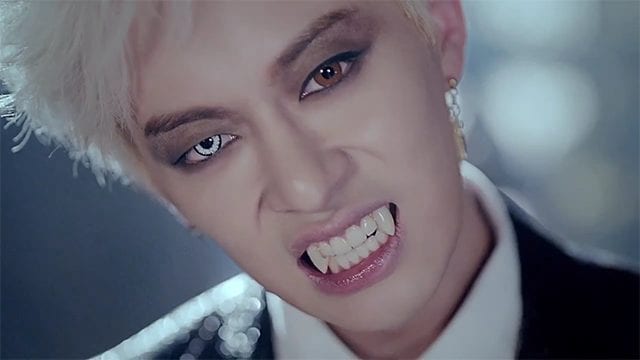 7 – Sunmi's "Full Moon"
Sunmi's music video is one of my favorites because the concept is so perfect for the song! She plays a vampire while actor Yoon Park, who was a rookie at the time, is the handsome young guy being possessed by Sunmi's presence. She is haunting his dreams, wanting to take him under the moonlight. This vampire beauty takes stalking and haunting to a new level!
6 – EPIK HIGH's "Don't Hate Me"
Not only does this song have a great Halloween theme, but it's super inspiring as well. "Everybody hates me, but you love me," sing the guys of the group while little kids dressed as villains and "bad" characters come in and tear up the store. It seems the love is mutual in this music video!
5- TWICE's "TT"
TWICE was once famous for their Halloween concepts, so no list could be complete without them! From their early days of dancing with zombies in "Like OOH-AAH" to dancing in a spooky mansion in "TT," TWICE knows how to do Halloween in the cutest way possible. Making for a nice break from spookier concepts, "TT" is one of everyone's favorite Halloween music videos.
4 – Jaejoong's "Mine"
With this dark music video showing Jaejoong bound in chains and unable to escape, I feel he is just hurt and angry. Singing "you are mine" with his trademark rock sound and displaying an abundance of dark imagery from skulls, snakes, crows, masks and more, this is one dark music video from the world of K-pop.
3 – T-ARA's "Lovey-Dovey" (Zombie Version)
This classic MV is simple enough in concept. They are at a dance club, and a mob of zombies come. After all this time, "Lovey-Dovey" is still a hit! Plus, I have to say the zombie dance was amazing!
2 – SHINee's "Married To The Music"
This is probably one of the most disturbing and most confusing K-pop music videos ever! In this MV, you just suddenly see body parts flying by like….. wait, what just happened? This is one of the K-pop videos that's absolutely perfect for Halloween— which makes sense since SHINee is one of the groups most famous for loving Halloween.
1 – VIXX's "VOODOO DOLL"
Nobody does "creepy" quite as well as VIXX does, so we could probably include almost all of their videos on this list. Perhaps their most famous video with a creepy concept though, "VOODOO DOLL" really draws you in with the stunning visuals. This music video really does spooky well! Those eyes? Yikes! This music video truly brought the voodoo doll concept to life!
There are other amazing K-pop videos with dark imagery and Halloween inspired themes as well. In addition, there are plenty of great live stages that are perfect Halloween too! To read our article about the spookiest live K-pop performances for Halloween, then click here!
What do you think of this list? Was your favorite Halloween inspired video included? What else would you have added to the list? Let us know by tweeting to us @whatthekpop1!
Min (unnijazumine) is a WTK writer with a deep love and fascination of all things Korean. She is a big fan of K-pop, K-dramas and Korean beauty products. She enjoys newer K-pop groups like BTS, B1A4, B.A.P and Teen Top, but she also enjoys classic K-pop groups like SHINHWA, Wonder Girls and g.o.d. She also loves the solo artists Dean and Crush. When she isn't out trying new Korean food and drinks, she is busy working or studying for a career in music.
Media: As Credited
Featured Image: Jellyfish Entertainment