Faith & Hip-Hop: How Up-And-Coming Artist JUNGSU Aims To Make His Mark On The Korean Rap Scene
Jung Su Park, who promotes under the name JUNGSU, is an up-and-coming hip-hop and R&B artist who makes music both in Korean and English. Originally from Korea, he is now in L.A. and hoping to make his mark on the hip-hop scene both in the U.S. and in Korea.
Recently, we were able to connect with JUNGSU for a telephone interview where he chatted candidly about the important role of faith in his life, what motivated him to begin a career in music, who inspires him musically, and much more.
Even over the phone, JUNGSU's sincerity is easily felt, as is his humility and passion for music. Raised as a preacher's kid, JUNGSU is a recent college graduate. Although, he may speak with the voice of a young man just starting out in the world, he displays the maturity and wisdom of someone far older. He is easy to talk to and down to earth, resulting in a conversation that felt more like a chat with a friend that an interview with an artist. In fact, the conversation got so personal that it soon veered off into non-music related topics where I found out that we share a common interest in missionary work, as well as an interest in Spanish-speaking countries.
Before the interview, I sat down to listen to the music JUNGSU currently has available. Listening to his tracks both on YouTube and SoundCloud, I was impressed by the seeming ease at which he is already writing songs and how he is able to convey deeply personal stories through music while still making it into something that listeners can relate to themselves.
To read more about JUNGSU, his past work, and his upcoming music release, check out the interview below.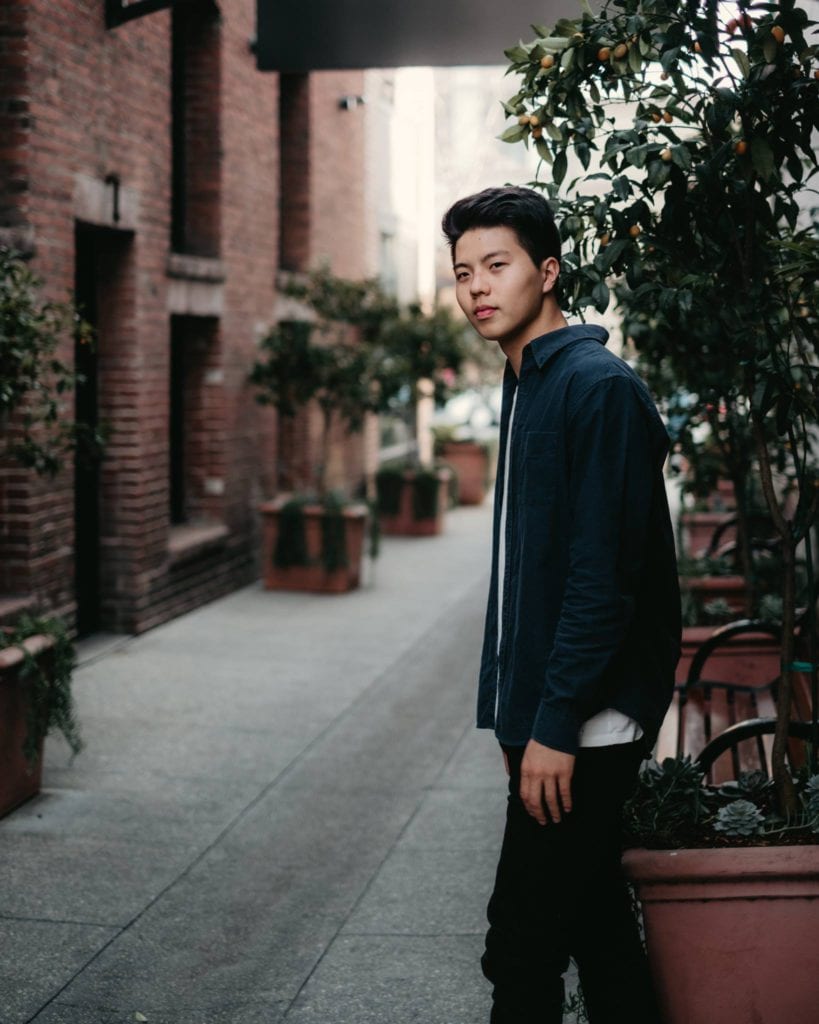 WTK: For the readers who are just now getting to know you, do you mind sharing a little bit about yourself and your music?
JUNGSU: So, I was born in Korean and raised [there] until I was eight years old. I moved to LA because my mom had all her family here. She was left alone in Korea by herself and didn't like that. So, i have two identities: one as a Korean and also now [one] as an American. To be honest, I was very confused in the beginning, especially when I first came to the States, because I didn't know how to speak a word of English or understand it. I didn't even know the alphabet as a second grader, so I felt out of place for a while like I was obsolete. I mean, I wrote my college essay based on this. This is a really big, intrical part of me and how it made me grow and how it led me to understand other people's pain as well. Because eventually, we all feel like outsiders in one way or another. Although we may have grown up in the same place all of our lives, we still feel that we don't belong. So, I started writing music because I realized that music is a tool that really brings people together and gives you a sense of belonging. [It can help] people who really relate to the lyrics and the melody and the emotions that are behind a song. So, that's the general overview of why I started giving more importance and serious attention to music… so, I can spread that positive energy of love, hope, and joy even in the midst of the pain and suffering that we all go through.
WTK: May I ask how old you are?
JUNGSU: I'm 22.
WTK: Ah, just a baby still.
JUNGSU: (laughs) Yeah, I just graduated from college, but I feel older because I've been around.
WTK: How did you first develop an interest in music?
JUNGSU: My mom is a pianist actually, and she taught me since I was five years old. I grew up in the church where I was part of the worship team and the praise band. [I was just] picking up the guitar, picking up the drums, just praising God and coming together with my Christians brothers and sisters. Just forming that bond was a community for me. Actually, I wrote about that in my college essay too— about how the symphony that we would create really symbolizes the symphony of life that we are living. We all go through the slow tempos or the [fast] tempos. It's kind of like music— life is always evolving and throwing something at us. So, music has always been a big part of my life, and my family is all very musical as well. First of all, my mom is a piano teacher and I grew up in the church. Then through that, I was able to pick up a lot of instruments and listen to a lot of different genres as well.
WTK: I'm a Christian also, and I noticed you talk a lot about God in your songs. It reminded me of BewhY. I'm sure you know of him?
JUNGSU: Oh, yeah! BewhY is my role model for sure. [Hip-hop can be so] secular [and is about] drugs, cars, all that— that's sort of why I chose hip-hop out of all the different genres. Because it's a dark genre and based on this flex culture of "I have more than you, and I'm better than you." It's toxic. That's what the value is that is spread among the youth because hip-hop has been such a rising genre. It really breaks my heart to see the fellow Korean youth or other people [follow this]. Even here in America, there are a lot of rappers that promote that toxic mindset.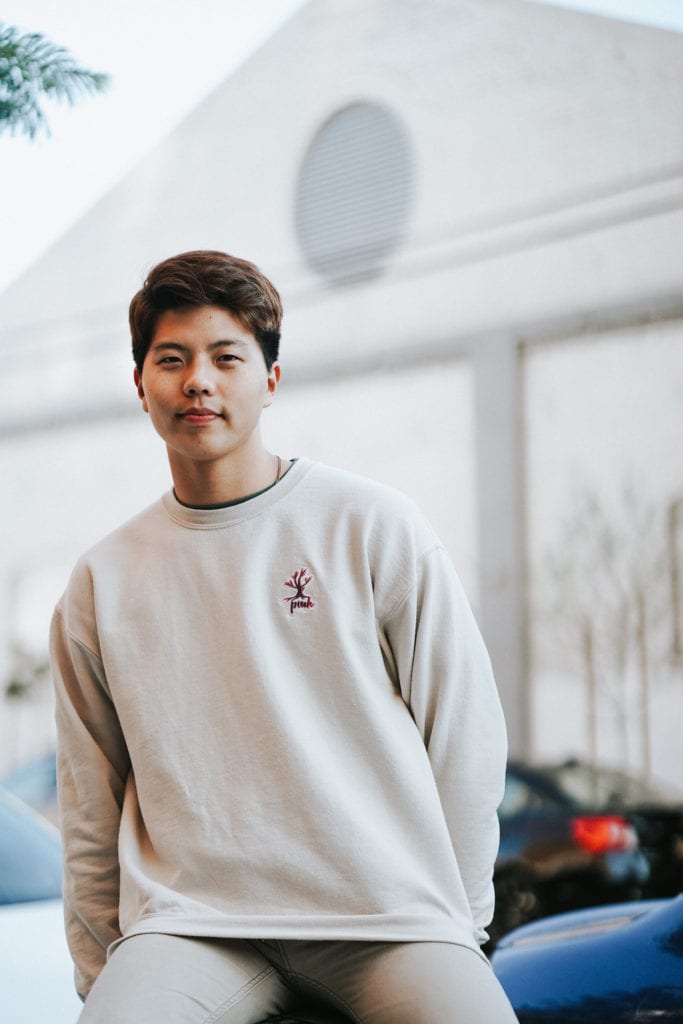 WTK: When I was listening to your songs, I was really drawn to the one called "Ocean Waves." Can you tell me more about what the song is about and what inspired it?
JUNGSU: In my sophomore year of college— that was 2 years ago — I just really hit rock bottom. I had depression and was just feeling low. Of course, I had God besides me all the time, but that was the first time when I had to come to a point of [asking myself], "Am I going to choose the depression route in terms of just staying in there in that zone of disaster, despair, and hopelessness? That happened just because of family struggles, my own mental health issues, and just hearing all these lies from the devil that I'm not worth anything. To be more personal about it, it's more related to my identity as a pastor's kid. My parents especially are the ones who run the church essentially. Some things started happening, and so it's just a lot of emotional pain, a lot of baggage. They started fighting very explosively against each other when they didn't ever do that before when they were starting the church. So, I was just kind of wondering why that was happening when we were trying to do God's work. I was like "Why, God? We're doing your work, but why is our family breaking apart?" So, I would have that type of resentment. Then I would turn to other things in the world to kind of escape from that feeling of despair. So, it was like an endless cycle of thinking, "Ok, I feel really trapped, So, I'm just going to do this thing, so I can escape from this stress." But that was just another trap, so I just kept going down deeper and deeper into that loop of sin and despair.
So, "Ocean Waves" is just about me seeing no hope at all. Like I would see a mountain in front of me, but every time I would get to another mountain, it was like "oh it's another mountain, and then another mountain!" I didn't see any light. It was all dark. [So], that was the first verse— a human being and their own limited perspective on life. The song is very vulnerable and raw with my emotions, not minimizing any of my human struggles, but at the same time not staying there. Instead, just maximizing God's presence over that. [Just trusting that] He can give me joy and a purpose in my life and that He will make something beautiful of this. That's the hope and that's what I hear from Jesus. The second verse is really put into words of [how I felt] the Lord's voice over me. And I really pray and hope that anyone who listens to my music will also hear that same sweet voice. So, that's the story. First, human's limited perspective. Second, Jesus' sweet voice over you in that situation.
WTK: For people who are listening to you for the first time, what's the song you would like to recommend the most?
JUNGSU: Oh. definitely "Ocean Waves" because that's the closest to my heart. It's the most emotionally open and raw song. I have another story behind that because i did a collaboration with another pastor's son on that— the music video was shot and edited by this fellow PK who also shared a similar struggle. So, that's the song closest to my heart. So, "Ocean Waves" for sure.
WTK: When I was listening to your music, I saw a lot of songs that said they were from your release Tear Therapy. Is that a mini-album?
JUNGSU: That was my first EP. It's kind of like a mini-album. It has six songs, and I did them in both English and Korean… I wanted to combine the two identities I told you about— me as a Korean, but also as an American. Tear Therapy, well, I titled it that because through the tears I shed, there is the darkness and hard times that I told you about. But I was able to heal from that because of Jesus. So, it was like therapy or a process of tears where God did not forget about me. He put my tears in a bottle— there's a [Bible] passage about that, and that really touched my heart. So that's why I titled it that as my first studio project.
WTK: We've talked a lot about God, but just to clarify for our readers. You're not a Christian rapper, but just a Christian who does rap. Correct?
JUNGSU: Definitely. I want to go into the hip-hop world and be accepted by, of course, fellow believers. But [I also want to be] someone who can be accepted by non believers as well. So, I'm a rapper who is a Christian.
WTK: Apart from BewhY, are there other artists who influence your style and vibe? Or are there any artists you just look up to personally?
JUNGSU: Juice Wrld, the American rapper. His story actually really inspired me recently, especially with his death. I just felt for him, you know? I just felt super emotionally connected to his story. Because I wondered how much he must have felt. His music was just melodic, depressive, raw. Although he talks about drugs, that was just his demon that he struggled with. So, I resonate with his messages in that way of just being really real with his emotions. So, I really listen to his music a lot. In the Korean scene there's ph1. You know him? His style of music is like singing rap… kind of flowing through the melody on the beat. Not just doing hard rap, but also having a lot more focus or arguably even more focus on the singing side. I really resonate with that because I don't think that rap has to be like a *imitates harsh noises* da-da-da-da-da-da-da emphasis all the time. Also, I'm thinking Kanye West because of his emphasis on the voice. Not only because he is a Christian now. I mean, obviously I really support that and love that, but even just his songs from before too. His beat production I would say is crazy because he did something that no one really did— which is using the human voice to create the beat or like a sample that is incorporated into the beat or even just using electronic synth sounds that you would normally only hear in EDM or house or other genres other than hip-hop. So, I think he's one of the people who really introduced me to thinking of hip-hop and rap as something really fluid and something that could have other genres mixed into it.
WTK: Currently, you're independent artist, right? Do you hope to sign with a label in the future?
JUNGSU: Yes, I'm just a do-it-yourself artist. Honestly, the Christian answer is "whatever the Lord wills" or "whatever door God opens," but I'm open to being signed to a label. For example, i know that ph1 is also a rapper who is a Christian, and he is signed to H1GHR Music. Some Christians criticize that as being too secular or whatever. But I think in that label or in that scene or in that people group, I think he can be a light in that darkness. So, I'm open to being signed to a label as well once my music picks up more traction and influence.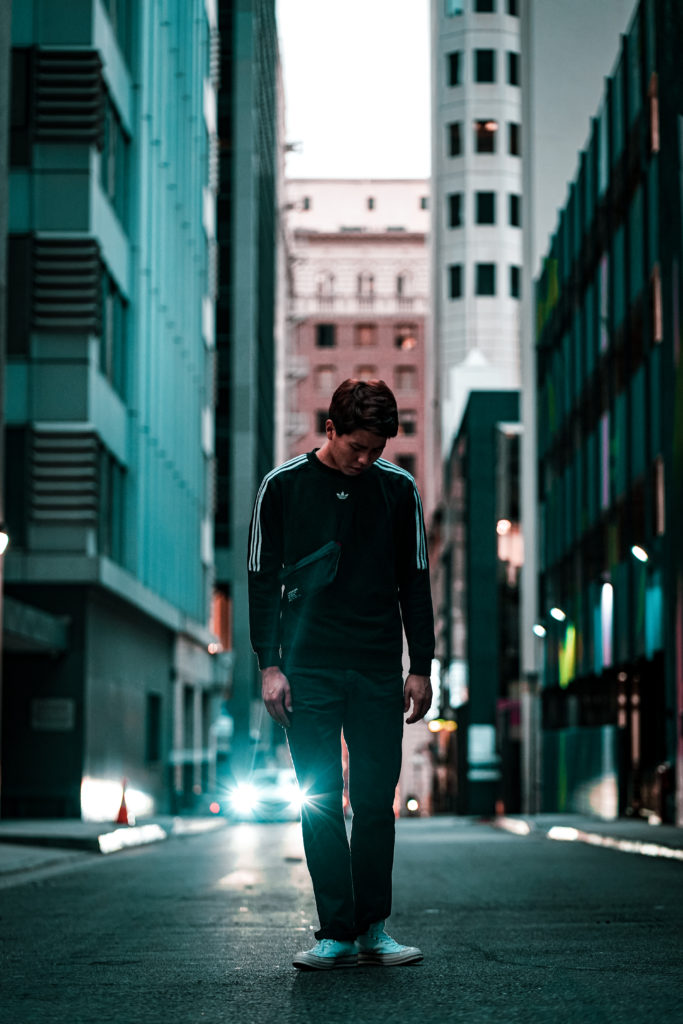 WTK: When did you first make your debut into the music scene?
JUNGSU: My first release was on my 21st birthday on April 2nd of last year. That's when I released Tear Therapy for the first time.
WTK: Ah, so you're a baby in both age and music!
JUNGSU: (laughs) I would say so! In your eyes, right? (laughs again)
WTK: So, what are your plans from here? Will be you in LA over the next few months or what are your plans?
JUNGSU: Well, my actual plan was to go over to Korea during the summer to participate on "Show Me The Money" if it happens. I've been applying to "Show Me The Money" for the past two years, and I was actually invited to come to the preliminary auditions and everything. But I couldn't go because I was busy with college and my parents wanted me to finish college first. But now that I've graduated, I was going to go to Korea. But honestly, that's up in the air right now with quarantine and COVID-19. So, to be honest with you, I really don't know what is going to happen over the next few months. Assuming there is no "Show Me The Money," I'll be here in LA while continuing to work on my craft, spend time with my family, and just be with the Lord in that way.
WTK: So, you've been invited before to the show?
JUNGSU: Yeah. They've changed up the format. Before they [used to] just take everyone who showed up at the preliminary auditions, but now they've started only taking 1,000 applicants after looking at all their videos. So, there was a video audition first for me, and then I was among the 1,000 applicants invited out of the 13,000 [of those who auditioned]. But I just couldn't go. For season nine, they haven't released info yet… of course with the situation being what it is, it might not happen at all this year.
WTK: You have a new song coming out soon, entitled "Off A Cliff"! Can you tell us about that?
JUNGSU: The song expresses the extreme distress of being shut down by a close friend or romantic partner. This emotion of isolation and vulnerability is symbolized by being pushed "off a cliff" going nowhere but down. Instrumentals give a sense of nostalgia with retro style in organs and piano that play a melancholy melody. It will be released across SoundCloud, YouTube, and all streaming platforms like Spotify and iTunes on April 27th at 7 p.m. PST/10 p.m. EST.
---
Many thanks to JUNGSU for allowing us this opportunity to chat about his music and motivations in life. We wish him the best of luck in the future and hope to see him on the next season of "Show Me The Money," whenever that may be!
For more information on JUNGSU, check out his YouTube channel by clicking here. You can also follow him on SoundCloud by clicking here or on Instagram by clicking here. Don't forget to also follow him here on Spotify and here on Apple Music.
What do you think of JUNGSU's song "Ocean Waves"? Are you anticipating his upcoming release as well? Let us know your thoughts by tweeting to us @whatthekpop1!
lee1086 is the co-founder and director of What The Kpop. When not writing or editing articles, she is watching K-pop music videos or K-dramas. She is a huge fan of Super Junior and the perfection known as Eunsihae. She also loves EXO, SHINee, BIGBANG, and many more. For another inspiring article about the part faith plays in the lives of some K-pop idols and celebrities, check out her recent article "15 Times Korean Artists Sang Christian Songs" by clicking here.
Media: As Credited
Featured Image: Stephanie Xu
*This interview has been partially edited for clarity and ease while reading.