MONSTA X's "From Zero" Reaches #1 On Billboard's World Digital Song Sales Chart In Honor Of Wonho
MONSTA X has achieved their first number one hit on Billboard's World Digital Song Sales Chart!
As of March 23rd, it was revealed that the group's 2017 track "From Zero" had reached the number one position on the Billboard chart, making it the first MONSTA X song to ever take the top spot! It currently ranks number one for the week of March 28th, 2020.
The song was released as a B-track on the album The Code and is meaningful to fans as Wonho helped write the song. The talented singer-songwriter wrote the lyrics, along with Brother Su and MONSTA X members Joohoney and I.M, and he also composed the song with Rich Jang and Brother Su. In addition, Wonho and Rick Jang arranged the song as well.
Fans have certainly been a busy group of people the past few months as they have worked tirelessly to show their support for Wonho as he went through recent trials after accusations of drug use and more. Recently, it was revealed that the police had found no evidence to support these accusations and that the case had been dropped as a result. To celebrate, fans decided to bring the 2017 track "From Zero" up in rankings to show how much they still love and support Wonho.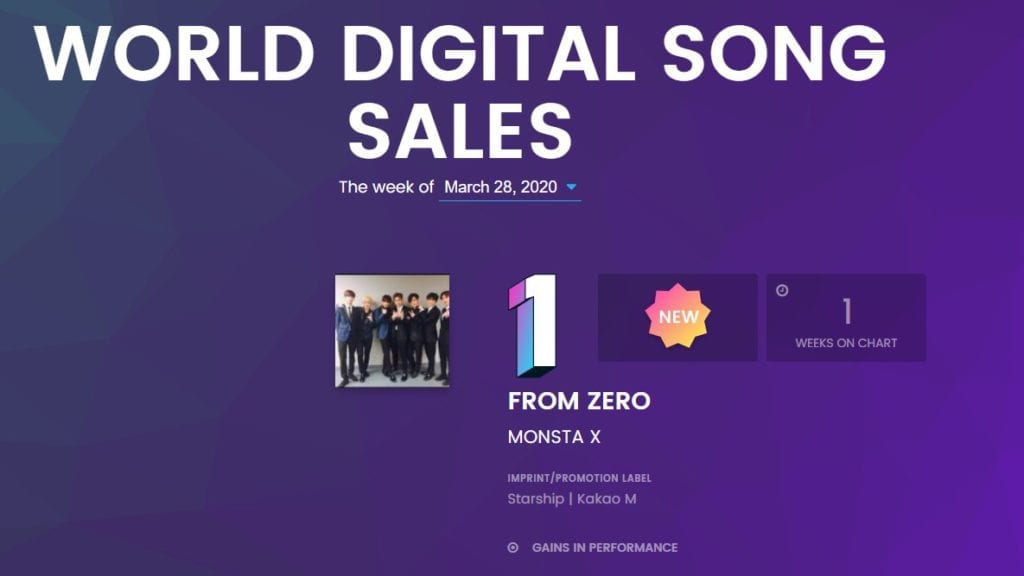 Although the group has achieved many great things through sales and on various charts, this is the first time they have ranked number one on the World Digital Song Sales Chart. Their previous highest ranking was when tracks "Beautiful," "Shine Forever," and "Jealousy" ranked at the number four spot.
In the meantime, Starship Entertainment revealed in a statement that they will support Wonho in whatever he decides to pursue in the future, leaving many fans with the hopes that he will rejoin MONSTA X as an active member. To read more about this recent news, click here. You can also click here to read Wonho's own statement about the matter.
Congratulations to Wonho, MONSTA X, and Monbebe!
Media: Starship Entertainment
Source: Billboard