K-Culture Special: Celebrating The Korean New Year "Seollal"
*This article was originally published for Lunar New Year 2017.
Seollal (설날) is Korea's New Year— a culturally significant holiday that occurs on the second new moon following the winter solstice. This year, it occurs on January 25th! In this K-culture series, we're going to be talking about the special holiday and how Korean celebrate this important time of the year. The celebration lasts three days: the day before New Year, the day of Korean New Year itself, and the day after Korean New Year day.
Although Koreans do celebrate the Gregorian New Year (January 1st), the Lunar New Year is the most celebrated holiday between the two. Many countries celebrate the Lunar New Year— Vietnam, Mongolia, Tibet, and China. The Korean New Year is generally thought to be no different from the Chinese New Year. However, they do have major differences! The Chinese New Year is celebrated for approximately two weeks and has a huge festival called the Spring Festival. The Seollal holiday is celebrated for three days— the day before, the day of, and the day after.
As a result of this being the largest holiday of the year, preparations need to be made for food, gifts, and travel expenses. During this holiday, families get together from all over Korea, and even family members who are overseas travel back home to be present during this memorable occasion. Because of this, travel expenses are high and is the busiest time of the year. Two of the most important Seollal traditions include Charye 차례 (Ancestral Rites) and Sebae 세배 (New Year's Bow)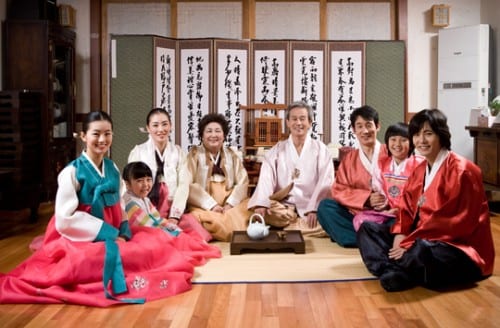 Charye (차례) is a rite celebrating the family's ancestors and asking for peace and good health. It takes place on the morning of Seollal. The Charye table is set and placed in a specific way. The contents of the food may vary but generally includes rice, meat, seafood, liquor, fruit, and vegetables. Peaches and red beans are never used because they are thought to keep spirits away. In front of the table, the members bow all the way down twice and bow once to give respect. After the ritual, eumbok (음복), which means "to drink good fortune," occurs where the family members eat. During this event, many families wear the Korean Traditional Hanbok. Because Korea has a paternal society, many families visit the paternal side for Seollal. Some do visit the maternal side afterwards, however, Charye is usually not performed.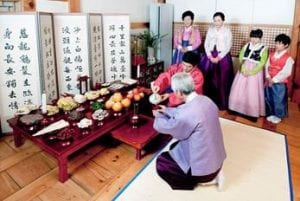 Cr. VisitKorea 
The young family members perform Sebae (세배), or the New Year's Bow, to the family elders. The boys and girls bow differently; boys bow with both knees, girls bow with one. While performing sebae, the words "saehae bok mani badeuseyo" (새해 복 많이 받으세요) are said, meaning "Happy New Year." Its literal translation is "Please receive good fortune for the New Year." The purpose of Sebae is to receive blessings and, of course, sebaedon (세뱃돈): New Year's money. The youngsters collect their sebaedon in bokjumeoni (복주머니) or a fortune pouch.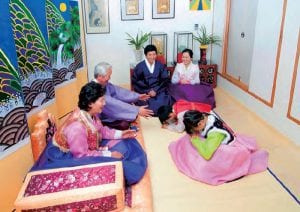 Cr. Korea.net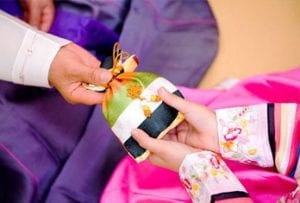 Cr. VisitKorea
This beautiful tradition is an important part of Korean culture and should be done correctly. To see it in action, you can watch f(x)'s Amber, Got7's Jackson and Bam Bam, and Super Junior's Henry (all Kpop idols born outside Korea) learn to perform sebae in Season 2 of "Roommates" in Episode 45.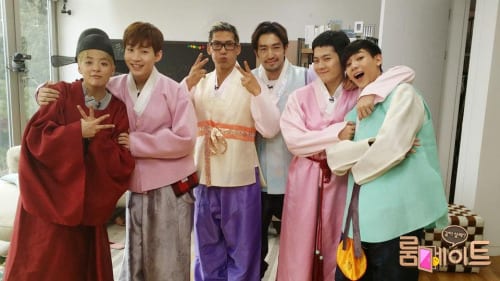 Cr. SBS
Some Korean superstitions consist of hiding shoes and hanging a bamboo strainer. Koreans believe that on the day before Seollal, ghosts come to steal their size shoes, which in turn, brings bad luck to the shoe's owner for the entire year. The bamboo strainer, which is used for washing rice and is called bokjori (복조리), is hung high on the wall to attain good fortune.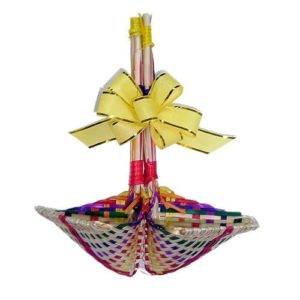 Cr. KoreaBridge
Seollal is an important day for Koreans and a time with wonderful, rich traditions and culture. Stay tuned for part two of WTK's Seollal series, where we will talk about the traditional food served during this time!
Do you celebrate Seollal? Let us know by tweeting to us @whatthekpop1!
---
Panamami started listening to Kpop and watching Kdramas in early Feb 2015. She finally succeeded in getting her best friend into it a year later. Hey favorite group is BTS and her bias is Rap Monster. She also listens to Jay Park and Illionaire and loves discovering new songs with her friend. Panamami loves animals and has a dog and two cats. When not watching Kdramas or working, she can be seen working at a horse farm.
Media: As Credited