88rising's Head In The Clouds Festival With iKON, DPR Live & More To Be Live Streamed For Free For Fans
Fans who can't attend 88rising's yearly Heads in The Clouds Music & Arts Festival in person this year will still be able to watch the festivities on a live stream!
Starting on August 17th at 3 p.m. PT/6 p.m. ET, a live stream will be available online so fans can watch the epic performances that are sure to grace the stage of the popular festival.. With a jam-packed lineup, K-pop and Korean hip-hop fans will be able to see artists like iKON, DPR Live, and Dumbfoundead more participate. Other performers also include Joji, Rich Brian, Higher Brothers, and more.
The special live stream will be available through TIDAL, an "artist-owned global music and entertainment platform that brings artists and fans closer together through unique original content and exclusive events." The 88rising's Head in The Clouds Music & Arts Festival is part of TIDAL's project entitled "TIDAL X: Festival Season." Throughout the summer season, various music festivals are live streamed exclusively through this TIDAL project.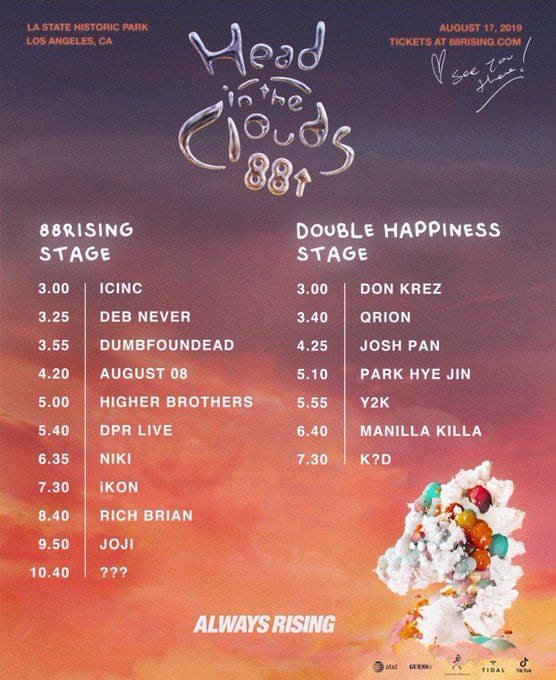 Although TIDAL is a member-based subscription, this live stream for the 88rising festival will be available for free for both members and non-members alike. You can keep up with the performances through the schedule above.
To tune in, just check out the video below or click here to be redirected to TIDAL's website.
Which artist are you most excited to watch perform? Let us know your thoughts by tweeting to us @whatthekpop1!
Media: WTK
*A previous version of this article stated that Jackson Wang would be performing at the festival. However, he will no longer be able to attend due to unforeseeable circumstances.