Best Friends Day: 10 Of The Cutest Korean Celebrity Best Friends
June 8th marks National Best Friends Day in the U.S., so we thought we'd compile a list of some of our favorite K-star duos! From famous friendships to lesser-known besties, check out our list of these adorable friends!
---
1) SHINee's Taemin and EXO's Kai
When you think of Kpop friends, almost all fans will think of these two first. Not only do Taemin and Kai look like they could be brothers, they've also been best friends for years. In fact, their friendship is famous in the Kpop world! Their friendship circle also includes more best buddies, including VIXX's Ravi, Wanna One's Ha Sungwoon, HOTSHOT's Timoteo, and BTS's Jimin. Talk about friendship goals!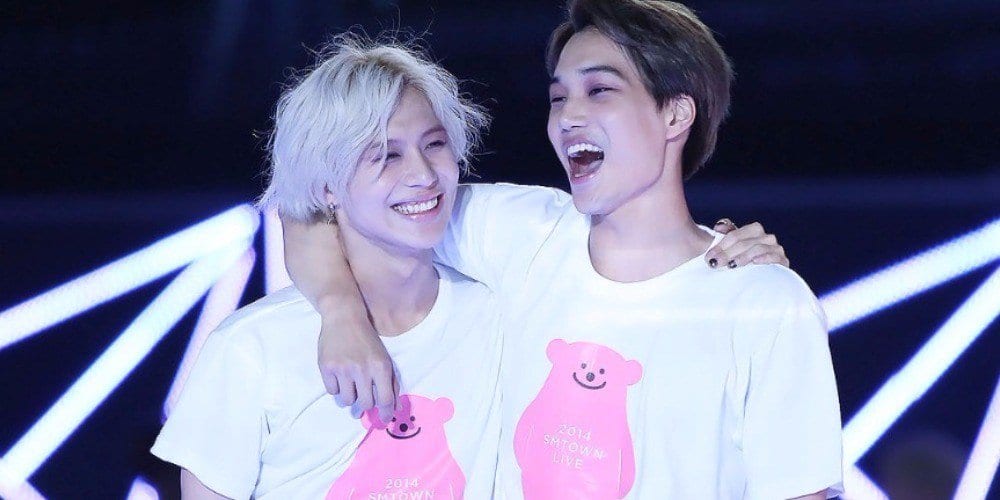 2) Lee Jong Suk and Kim Woo Bin
These two gorgeous, famous actors have one of the cutest friendships in the acting world. Both started out as models, so perhaps that's what made the two grow extra close after filming together in "School 2013." In fact, they are so close that dating rumors even began to circulate about the two, leading Kim Woo Bin to laugh the rumors off when asked about it in an interview. "I think friendship is also a type of love," he stated. Meanwhile, Lee Jong Suk said before that he would like to start a boy band like EXO with him, Woo Bin, and their model friends. What do you think?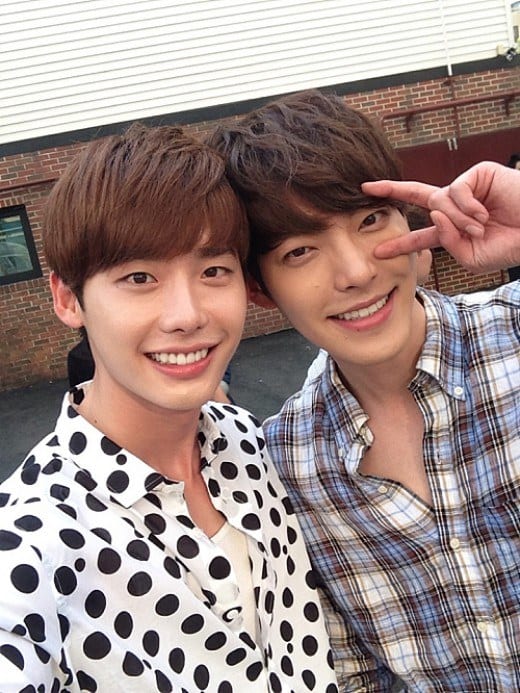 3) Super Junior's Donghae and Eunhyuk
The best friend duo that launched a thousand fanfics, Donghae and Eunhyuk are practically inseparable. Although the two are well-known to have other best friends as well (Eunhyuk is famously close to JYJ's Junsu while Donghae is super close with people like 2NE1's Sandara Park, EXO's Sehun), these two have become like true brothers after spending over 15 years together. They love, they laugh, they cry, they fight— they even started their own sub-unit together—but in the end, these two are always at each other's side like true best friends.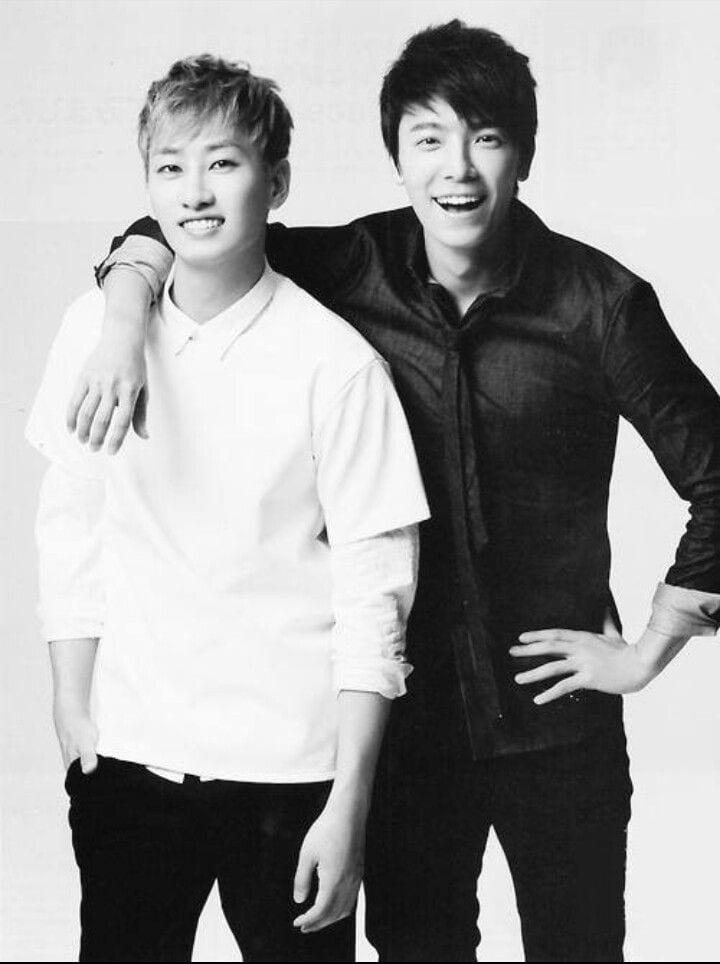 4) SNSD's Tiffany and SISTAR's Bora
Tiffany may be famous for her friendship with fellow SNSD member Taeyeon, but her other best friend in the business world is none other than former SISTAR member Yoon Bora. The two became close when their groups were promoting at the same time, then their friendship grew from there. Cue giggles, cuteness, and bubbly personalities that leave us wishing we were half as adorable as these two besties.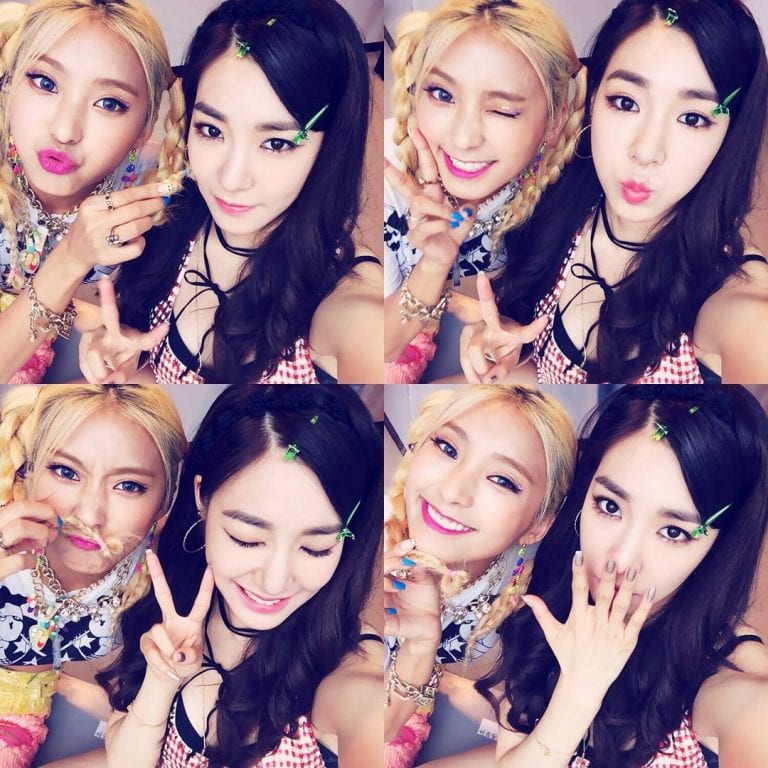 5) BTS's V and Park Bo Gum
BTS's V has a close circle of buddies that includes fellow "Hwarang" co-stars Park Hyung Sik and Park Seo Joon, but perhaps the cutest part of his BFF circle is his friendship with famous actor Park Bo Gum. Evidently, V was a fan of Park Bo Gum after watching him in "Tomorrow's Cantabile" and Park Bo Gum was a fan of BTS's music. When the two met through work, V confessed that he wanted to become friends. Since then, this duo has thrilled fans with their cute and lively friendship!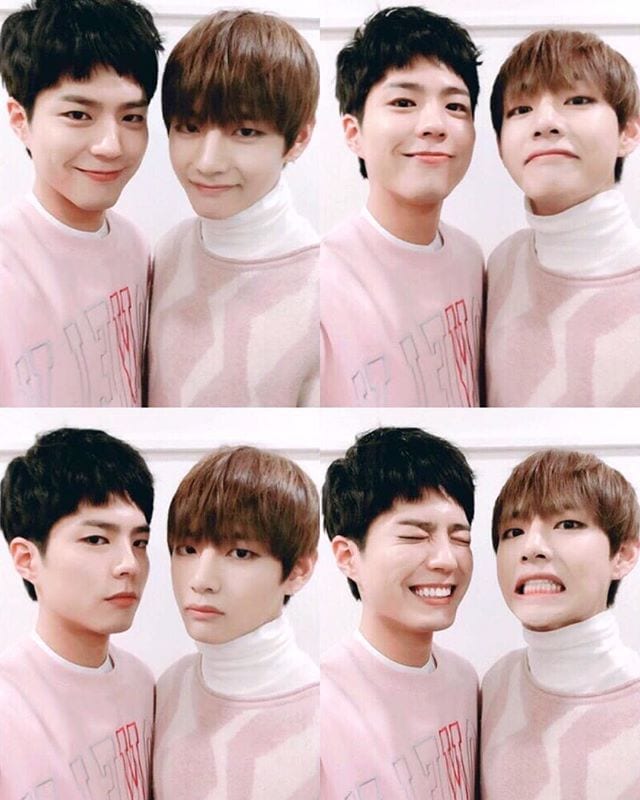 6) IU and Suzy
These idol-actresses first met when they co-starred in the popular drama "Dream High," but they didn't grow closer until a phone call from Suzy at 4 a.m. to wish IU a happy birthday. With that one call, the awkwardness melted away and their friendship truly began. The two may be more reserved than a lot of celebrities, but that works to their favor since they get along so well. From friendly butt-slaps on TV to adorable selcas together, innocent times of swinging together in a park to spur of the moment plans, these two are just too cute for words!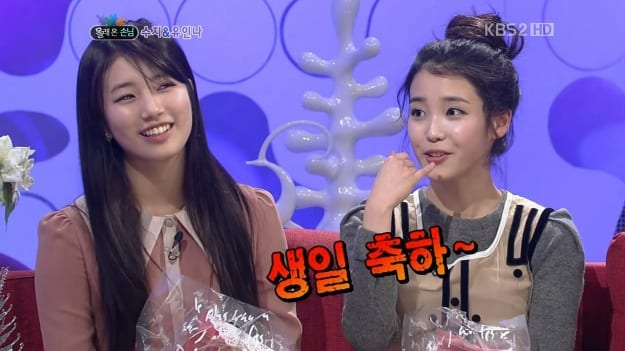 7) Lee Kwang Soo and Song Joong Ki
All hail the friendship to end all friendships! Lee Kwang Soo and Song Joong Ki first became really close through the mega-hit show "Running Man." However, even after Song Joong Ki left the show, his friendship with Kwang Soo continued to grow. Joong Ki is also close to many other celebrities, including Park Bo Gum, but he confessed that his ultimate bestie is in fact Lee Kwang Soo. Their friendship is so famous that even the media laughs over it, especially after Kwang Soo humorously took to SNS to profess he had a "broken heart" after Joong Ki announced his engagement.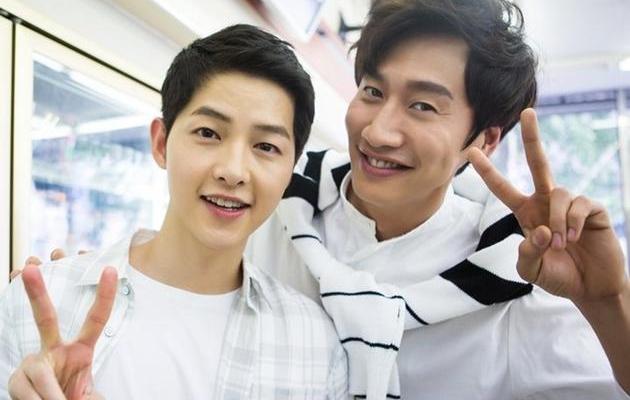 8) INFINITE's Woohyun and SHINee's Key
Good looks, talent, laughter, and making fun of each other is pretty much how we would describe Woohyun and Key's friendship! The adorable pair has been best friends for a long time, even starting their own music unit called Toheart (We're still waiting for a comeback, by the way!). What we love most about these two is their hilarious banter. No matter how much they tease each other though, their genuine love for each other is evident for everyone to see!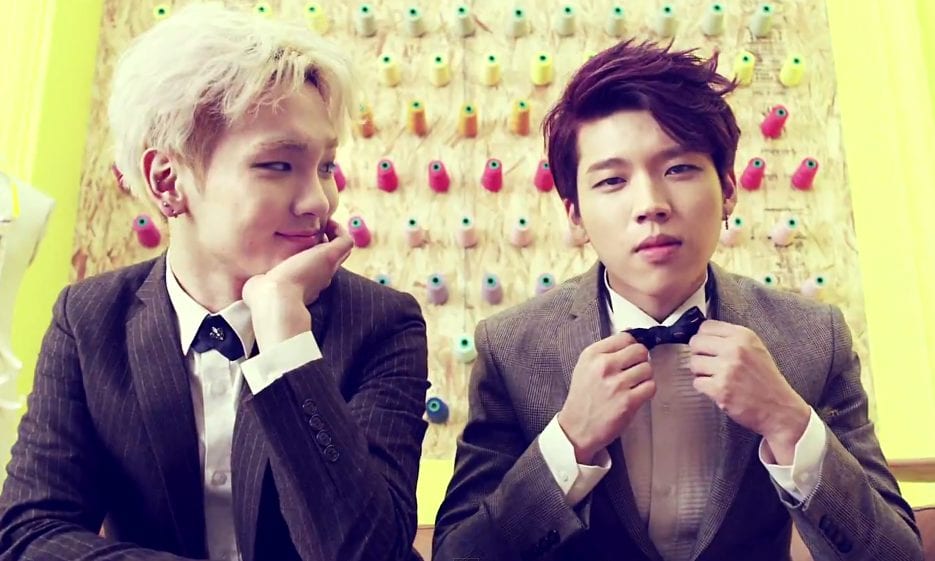 9) Lee Min Ho and Jung Il Woo
Lee Min Ho and Jung Il Woo are another famous duo that have been friends for a long time. However, a certain tragedy made the two grow even closer. While traveling together, the two mega stars were involved in a major car accident which left two people dead. The actors were both severely injured as well and had to spend several months in the hospital, leaving them both with lasting health problems. Going through such a hard time together just served to further solidify their friendship and help it become even deeper. The famous buddies still remain best friends today!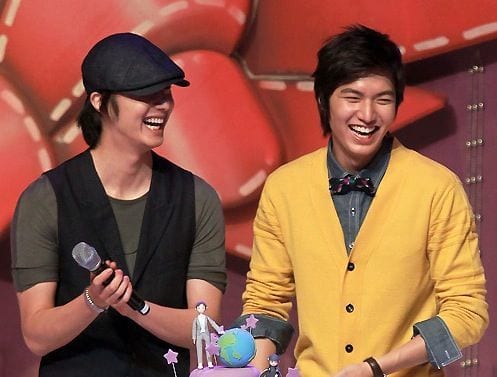 10) Super Junior's Heechul and Son Dam Bi
Heechul's circle of lovely female best friends seems never-ending! While many also consider EXID's Hani and SNSD's Taeyeon his best friends, his friendship with Son Dam Bi has definitely been one of the longest. The two are so close they even had each other saved on their phones as "My Man" and "My Woman." With such a deep friendship that has lasted so many years, their sincere love for each other definitely makes them one of the cutest pair of best friends in Kpop!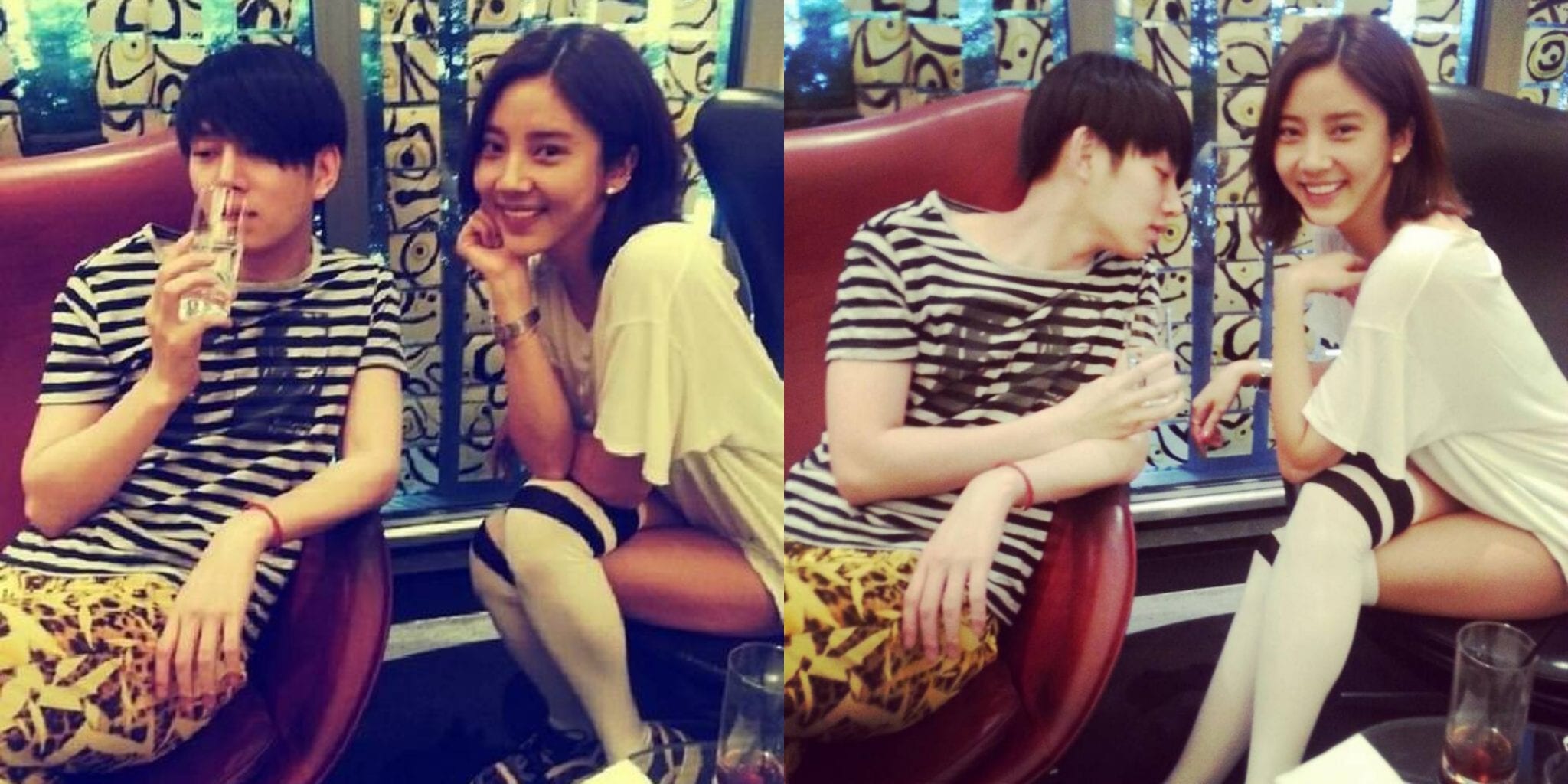 Which other K-star BFFs do you love? Let us know your favorite pair of best friends in the comment section below! Meanwhile, share this article with your own best friend today!
Media: As Credited
Featured Image: 荏苒_TimePast051106