Celebrating Suho: 12 Random Facts About EXO's Leader
May 22nd is the birthday of EXO's Suho! Everyone knows that this young man is one dedicated leader and tries to take care of his members as much as possible— even if that means taking a back seat and letting them shine instead.
With that being said, let's make today all about this gorgeous, talented leader. We're celebrating Suho with these cool facts which may surprise you!
Suho was in the top 5 students in his high school, and is now one of the top 50 students in his college. Not surprising when you come from a family of scholars!
His real name is Joonmyeon, and his stage name means "strength." Very appropriate for someone who is the leader of his group!
Suho trained for over 7 years for his debut. It's said that he was originally meant to debut as part of SHINee, but that has never been confirmed. However, he is extremely close with SHINee members.
Suho was the first EXO member who joined SM Entertainment.
Suho says he is confident in all appearance, but he still ranks himself as last in visuals for EXO-K.
Suho is the only member of EXO-K that's not terrified of bugs. He

is

scared of heights, however.
Suho's family is very wealthy, making him the richest member in EXO. Due to his good looks and money, he became known as the "Second Siwon" of SMTOWN. A strange coincidence since he and Siwon are actually neighbors in the same, exclusive neighborhood.
Suho is best friends with the"Kyu-line." The group includes Super Junior's Kyuhyun, TVXQ's Changmin, SHINee's Minho, and CNBLUE's Jonghyun. They are all so close that they even filmed a travel show together on KBS.
Super Junior's Kyuhyun has included Suho in his album credits numerous times since the "Sorry Sorry" era, as seen below. Many other SM artists have done the same, proving that he is something of a favorite of theirs. All SHINee members have written to him in their credits, as have Amber and Krystal of f(x).
Suho is the one who decided on EXO-K's group cheer which is "EXO-K Saranghaja" (Let's love).
Despite being the group leader, Suho shared a dorm with the maknae Sehun. The two deal very well together though due to similar temperaments and love being roommates.
It's his fondest wish that he will continue to grow taller— something he firmly believe is possible since he is under the age of 30.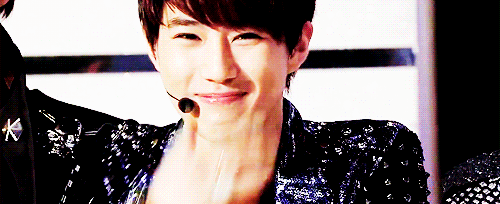 ---
We at WTK wish Suho a very happy birthday and many years of continued success as a leader and member of EXO!
What is your favorite random fact about Suho? Did any of these surprise you? Let us know in the comment section below!
lee1086 is the co-founder and director of What The Kpop. She is multi-fandom and happens to adore EXO, Super Junior, and SHINee. In other words, she is total SM trash. She thinks Suho is a precious angel and was thrilled to meet him at a press conference for a concert back in 2014. He is absolutely flawless in real life and she still raves about his glowing, gorgeous skin. In other words, she's a fan. Happy birthday, Suho!
Media: SMTOWN, Giphy