WATCH: VIXX Releases Tracklist and Highlight Medley For New Mini-Album
With the recent release of VIXX's fourth mini-album's track list and highlight medley, we are getting closer and closer to their comeback!
On May 7th, around midnight KST, Jellyfish Entertainment dropped the tracklist for VIXX's upcoming album, entitled 도원경. The title track is also named "도원경", meaning "place of paradise" or "eden."
There are six tracks on the album, starting with the title track and followed by "INTO THE VOID," "Black Out," "다가오네," "우리에게," and the instrumental version of "도원경." Member Ravi, who is known for his active nature in music composition, was largely involved in the lyric writing of each song on the album.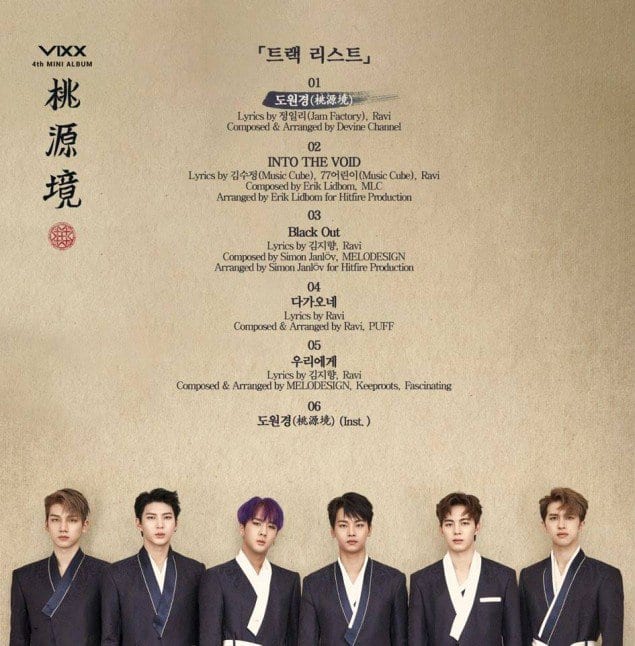 A highlight medley for the album was later released on the RealVIXX YouTube channel. It gave fans the chance to hear short portions of each song, showcasing the quick nature of the first three songs and the slow vibe of the last two. On the video, the previously released teaser pictures of each member scroll by with each song change.
The official music video teaser is set to release on the 12th, and the full music video along with the album will be dropped on the 15th.
Are you excited for VIXX's comeback? Let us know in the comment section below!
CaptainMal has been into Korean Entertainment for seven years now, since 2010. She travels to conventions in her area, showcasing her "Kpop Game Show'" and occasional Kpop cosplay. Although her favorite bands are Infinite, Super Junior, and VIXX, she boasts a love for a huge variety of artists throughout the last 15 years of Kpop. Other than Kpop, CaptainMal loves Disney, 80's rock, Daft Punk, Gaming, and Orange Juice.
Media: Jellyfish Entertainment