Slipping Into The Diamond Life: A Beginner's Guide To Seventeen
So you've heard of Seventeen, maybe even liked a few of their songs, but are afraid of stanning such a big group. You might have also heard this buzz about them being the only group featured on the show "One Fine Day" twice. You're curious, but you aren't sure where to start. No fear! This WTK Carat will guide you so that you can cascade— I mean slip— into the Diamond Life. I have come up with thirteen steps to "Boom Boom" your way to becoming an official Carat. Let's begin!
---
Step 1: Know the Basics
Seventeen is a self-producing idol group from Pledis Entertainment. They write their own songs, compose, and create their own choreography.
Seventeen has thirteen members. Their name comes from having thirteen members, three sub-units, and one overall team.
The sub-units are the Vocal Team, Hip-Hop Team, and the Performance Team.
Seventeen debuted on May 26th, 2015, with an hour-long showcase.
Carats got their name from their song "Shining Diamonds" which was their unofficial debut song.
Carats were born on February 14th, 2016, during their Boys Wish concert.
Step 2: Their MVs
Check out this link for an amazing playlist of all of Seventeen's MVs and songs.
Step 3: Their Shows
Reality Shows:
17 T.V. This is their pre-debut show where they play games, perform plays, practice, and share in antics. Note that there were more members back then!
17 Project This is their debut show where they must go through missions and challenges in order to debut!
13 Castaway Boys/One Fine Day Here the boys thought they were going to have a very nice (pun intended) vacation, but they soon learn they're stranded!
Where is my Friend's Island? They go to Jeju— Seungkwan's hometown!
5 Ducks: The Ranking is up to Me Seventeen ranks products.
Variety Shows:
Step 4: Know The Members
Choi Seungcheol (S.Coups)- He is the leader of Seventeen and is well known for taking care of his members. Big and sultry eyes? Yep, that's S.Coups. Can't miss him. He is also the leader of the Hip-Hop Team. Fun Fact: S.Coups' name comes from his own name plus the phrase "Coup d'etat" which is French for "a blow against the State."
Yoon Jeonghan- Formerly the long haired member, Jeonghan is known as Seventeen's angel. Now all you have to do to spot him is to look for the guy with the 90's boy band cut and the perfectly symmetrical face, and you've found him! He is a sub-vocal on the Vocal Team. Fun Fact: Jeonghan is known for getting the other members to do things for him.
Joshua/Jisoo Hong- As one of the American members, one might think his Korean isn't up to par, but that can't be furhter from the truth. Known as the "Gentleman" of the group, you can find him by his big doe eyes, cross earring, and polite smile. He is a sub-vocal on the Vocal Team. Fun Fact: He doesn't like ramen that much.
Wen Junhui (Jun)- Jun is one of the Chinese members and is a stunning visual. You can recognize his long protruding nose (more noticeable in his profile), and if you see some shenanigans in the background, it's usually him. He is the lead dancer in the Performance Team. Fun Fact: He can speak both Mandarin and Cantonese, as well as Korean.
Kwon Soonyoung (Hoshi)- He is one of the many jokers of the group. Known as "10:10" because his eyes point in the 10:10 directions on a clock, he is the member with both sexiness and aegyo. He is the leader of the Performance Team. Fun Fact: He is the biggest SHINee fanboy.
Jeon Wonwoo- Though he may look intimidating onstage, in reality, he's an adorable puff. You will know him by his deep voice and piercing stare. He is a lead rapper in the Hip-Hop Team. Fun Fact: He is afraid of dogs, though it's uncertain if it's just big dogs.
Lee Jihoon (Woozi)- The shortest member of the group (5'4-5'5) and the producer. He composes and writes most of the lyrics for their songs. You can't miss him really, everyone towers over him. He is the leader of the Vocal Team. Fun Fact: He can play the clarinet, drums, piano, and the guitar.
Lee Seokmin (Dokyeom/DK)- Considered to be one of the best voices of Seventeen, DK is known to be a powerhouse vocal. With a long face and a dashing smile, you might have a hard time looking away. He is the main vocalist of the Vocal Team. Fun Fact: His favorite music style is rock.
Kim Mingyu. Mingyu is the unofficial visual of the group (no official visual has been stated). As the tallest member, you won't be able to miss him. He is the lead rapper of the Hip-Hop Team. Fun Fact: He loves doing his members' hair.
Xu Minghao (The 8)- The other half of the China Line, The 8 is known for his B-boying and martial arts skills. With pointy ears and a precious smile it's no wonder he's known as the "Fairy." He is the Lead Dancer on the Performance Team. Fun Fact: His favorite season is summer.
Boo Seungkwan. Another powerhouse singer, Seungkwan has the pipes to please. Known for his high cheekbones and sass, you'll have a hard time not finding him in the group. He is a main vocalist of the Vocal Team. Fun Fact: He is allergic to tomatoes.
Choi Hansol (Vernon)- Being half-Korean and half-German/French-American, Vernon's looks often get compared to a young Leonardo DiCaprio. With smoldering eyes and a wolf-like smile, he'll either be your bias or bias wrecker. He is the main rapper of the Hip-Hop Team. Fun Fact: Of all the members, he is the one who gets scared the easiest.
Lee Chan (Dino)- As the maknae, one would expect him to just be cute, but Dino is way more than that. With a chiseled jawline and dance moves that Michael Jackson could be proud of, Dino is hard to miss. He is the Main Dancer of the Performance Team. Fun Fact: Both of his parents are dancers, and his father opened a dance studio and taught Dino how to dance.
Step 5: Friends of Seventeen
DK, Mingyu, and The 8 are a part of the '97 Line group chat with GOT7's BamBam and Yugyeom, NCT's Jaehyun, and BTS' Jungkook. 
Samuel, a former Seventeen trainee who is now a contestant on Produce 101, has maintained a friendship with the group.
Ailee is Woozi's longtime friend from their trainee days.
MonstaX and Seventeen have been friends since Seventeen's debut and even played basketball together. Seventeen lost.
Joshua and V from BTS share the same birthday and have formed a friendship from it.
BTS and Seventeen have a low-key friendship, but their fans know they admire one another. Suga and Woozi will even copy each other's wardrobe.
Nu'est and Seventeen go way back to their trainee days.
Newly debuted group Pristin has been friends with Seventeen and even performed together in their trainee periods.
Chanyeol of EXO and Woozi formed a friendship in the studio due to the fact that they both love creating music.
Look-alikes idols Jun and Heechul of Super Junior formed a friendship when everyone noticed their striking resemblance.
GFRIEND and Seventeen have a lasting stage friendship with more than one performance together.
Step 6: Inside Jokes
To wake up Hoshi, one must say "Hoshi fighting!" And he'll wake up screaming "Fighting!"
Jeonghan: Dino nugu aegi? (Whose baby are you)? Dino: *sighs* Jeonghan's baby.
Anytime Joshua says his last name, all his members yell "Hong!" "Hong!"
Can't find Jun in an interview or during a broadcast? That's because he's been covered by the logo again.
Jeonghan is known as the "Angel" because the spelling of his birthday (10/04) sounds like the word angel in Korean.
However, Jeonghan is not always an angel since he pranked The 8 once by telling him to pay with abalones rather than money.
Kimbap Kidding
BooSeokSoon, the gag trio
Seventeen pre-school
"Why does chicken heal your heart?"
"Drink water"
Thughao…IMMA!
Woozi with a guitar is dangerous.
Mingyu is actually Mingeww. He is always coughing and sneezing with no tissues.
Carats=Carrots
Dokyeom's horse
Jeonghan's giraffe
DK's pigeon
Wonwoo's Beast dance cover
And tons more!
If you have watched those videos in steps two and three, you'll know these jokes.
Step 7: The Memes
Step 8: Get To Know The Fandom
Chat with other Carats, and tell them all about your bias(es). Join a group on Facebook or chat on forums.
Step 9: The Albums
Here you can see the beautiful packaging of Seventeen's albums.
Step 10: Their Social Media
Follow all if you can.
Step 11: The Official Colors
The official Seventeen colors are Rose Quartz and Serenity.
Step 12: The Ships
The Most Popular:
Jeongcheol (Seungcheol and Jeonghan) a.k.a The Parents
Meanie (Wonwoo and Mingyu).
Jihan (Jisoo and Jeonghan).
Verkwan (Vernon and Seungkwan).
Junhao (Jun and Minghao) a.k.a China Line.
Soonseok (Soonyoung and Seokmin)
Ships on the Rise:
Hoonhan (Jihoon and Jeonghan).
Junwoo (Jun and Wonwoo).
Minhao (Mingyu and Minghao).
Jiwon (Jihoon and Wonwoo) a.k.a WooWoo.
Soonhoon (Soonyoung and Jihoon).
Unpopular Ships:
Hoonsol (Jihoon and Hansol).
Mingcheol (Minghao and Seungcheol).
Jichan (Jisoo and Chan).
Seokkwan (Seokmin and Seungkwan).
Jeongsol (Jeonghan and Hansol).
Step 13: Their Awards
A list of their well worked for wins and nominations.
---
So are you a Carat now? Be sure to join their Second Fanclub Recruitment going on now. Just see their official site for details, and make sure to watch the new season of Seventeen's "One Fine Day" on March 31st for their second appearance! Comment down below if you found the guide helpful or if there was anything missing we should have included.
Are you a fan of Seventeen? Let us hear all about your love for this funny and talented group!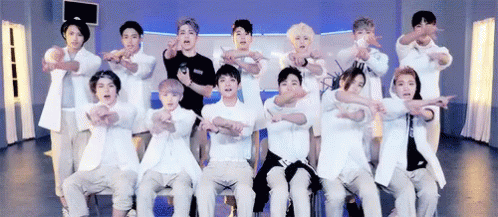 Kim (Paradoxicalsuds) is a writer for What the Kpop and has been a devoted K-Pop fan for almost ten years. An avid SNSD, GOT7, FTIsland, and AOA fan, Kim has been in love with K-Pop since the original debut of TVXQ. While she watches new MVs or K-Dramas on her laptop, Kim enjoys tea, begging for affection from her cat, making jewelry, and writing fiction. 
Media: As Credited